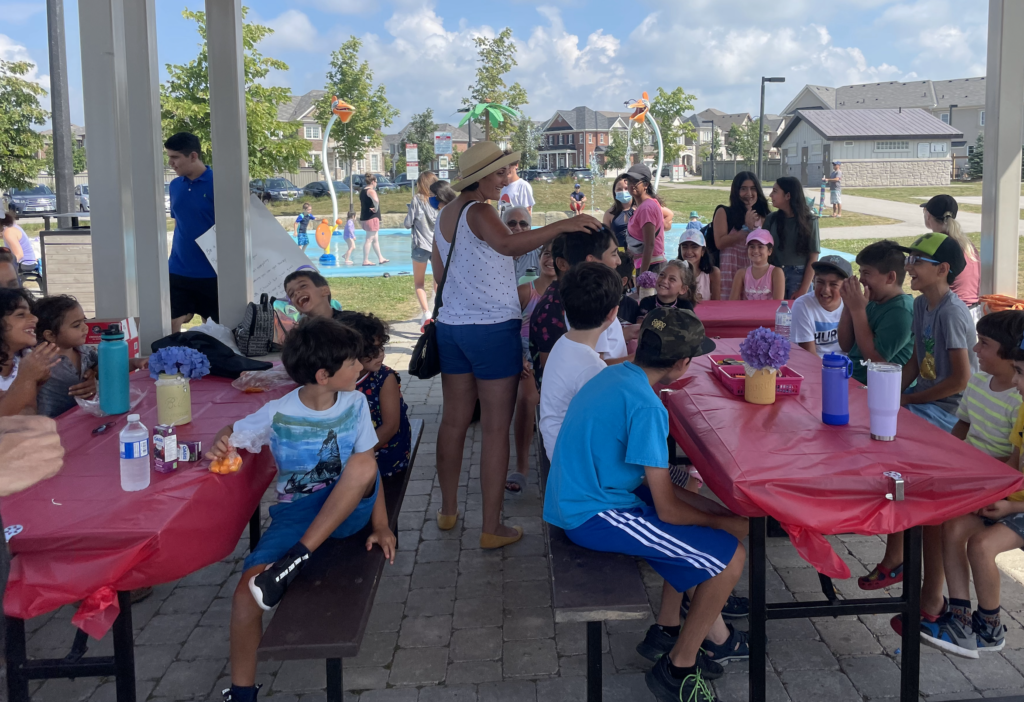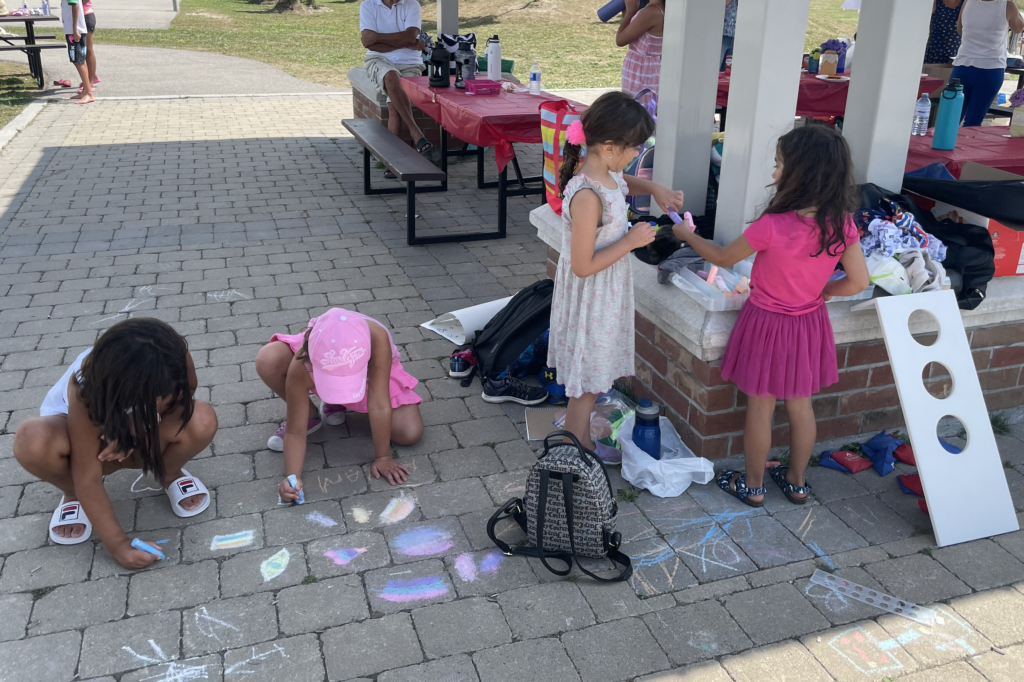 Families gathered in Aurora in July for activities, music and learning in late August
The summer months in Ontario are a time of rich opportunity in terms of connecting to young people and their families. This summer, several teams and groups of families across the region have carried out children's camps that expand possibilities for growth around existing children's classes and youth activities in their localities.
Two such examples were in the Beaches neighbourhood of Toronto and in Aurora. In both contexts, groups of parents consulted amongst themselves about the needs of the children of their communities, many of whom were emerging from a challenging year of online schooling. Motivated by the understanding that growth "calls for marked development of the capacity to spiritually educate children"[1], their consultations and emerging plans drew in parents from the wider community as well as youth who had an interest in working with the younger generation.
The team in Aurora was able to build on a teaching project that had occurred the week before the children's festival, where many youth were present. They were keen to continue serving and loved the idea of working with children. They ultimately prepared a puppet show with a moral message for the children, taught them to sing a Bahá'í writing to music, and carried out a craft and a lesson from the children's class materials. Eden Naylor describes:
"We invited all the families we knew that might be interested in attending children's class in the fall. There was much excitement in the air as it was our first in person gathering since the pandemic started. We met at a local park, had a few activities, socialized and ate lunch. We plan on holding a couple festivals throughout the year so the children can meet with one another and share what they are learning in their classes, have fun and create friendships."
In the Beaches neighbourhood of Toronto, a few mothers and youth had a sense of urgency to do something, having identified the need for children to see one another in person and feel a sense of community after months of isolation and screen time. In preparation, they read about the forest fires in British Columbia and the uncovering of the bodies of children who were killed in residential schools. They decided to focus on environmental stewardship and the oneness of humanity. The camp built on the ongoing efforts in the neighbourhood to soon have two children's classes and a junior youth group. Alicia Cundall describes:
"To organize the camp, a number of home visits were required. A WhatsApp group that allowed everyone to contribute ideas and suggestions was helpful. The youth, whom we had just met, were present at 8:30 in the morning to ensure we could use the gazebo and to set up for the camp! We witnessed that receptivity can be found everywhere! We learned how to collaborate with parents and youth in a neighbourhood to identify needs and respond to them."
27 friends gathered under a gazebo on a rainy Saturday morning and called the event "Beaches One World Eco-Camp." Children ages 1-10 were welcomed to engage with a variety of activities set up in the space, including birdfeeder making, learning about the Indigenous Medicine Wheel, rock painting, and planting. Group games and singing also brought joy to everyone, such as a parachute activity and making a "web of life" where a ball of yarn is thrown across the circle to each participant to show how we are all connected. After lunch the children enjoyed a beautiful drumming circle with Steve Maskell, who used to direct the New York children's theatre. The first rhythm they learned together was the heartbeat, which helped to further illustrate the essential oneness of humanity.
Many mothers and fathers from the neighbourhood attended and contributed supplies and ideas for the camp. Through their participation in the camp, the youth reflected that they felt energized by being of service to their community. This was the first time they had been part of an initiative like this and both expressed a desire to serve as animators.
These experiences bring to mind how: "Mothers bring to the effort their experience of parenting and more readily engage other parents in related conversations. As for the youth, when they are involved in deep discussions on their responsibility to the community, they respond especially well when invited to work with children and junior youth."[2]
[1] International Teaching Centre, 2017, Training Institutes: Attaining a Higher Level of Functioning
[2] International Teaching Centre, 2017, Training Institutes: Attaining a Higher Level of Functioning