In the fall of 2020, the team in Toronto's densely-populated neighbourhood of St. James Town was thinking about how their efforts to draw new youth into the community-building process could continue. Winter was looming, and restrictions around the pandemic were likely to increase.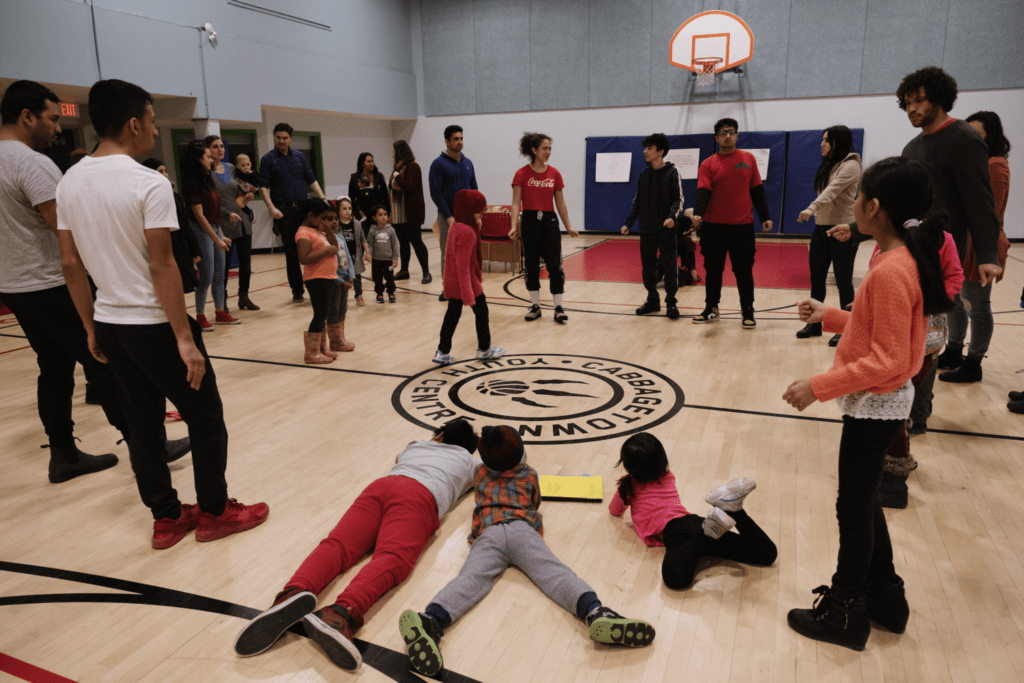 They were conscious of the need to weave together a pattern of study with service in the field, knowing that in "an environment marked by sincere friendship and common purpose, the members study the institute courses, engage in service and extracurricular activities, and promote this mode of learning to others."[1] But how is this practiced during a pandemic?
The tutors and those holding core activities in the neighbourhood tried to think of a number of creative ways to meet new youth during the lockdown. Many of the contacts had been exhausted over the summer and outreach and home visits just weren't possible.
They decided to build on the insights gained during the last lockdown: the tutors and participants in the institute had held youth gatherings over Zoom by inviting their friends to consult about concepts from the institute, to socialize and to participate in games.
Through this strategy, Atia, a youth who had just turned 15 was supported by her animator to invite a few friends to a Halloween youth night. There, they would talk about the aims of the junior youth program and serving their community. The youth and animator invited everyone they knew. Three friends joined on Halloween and the atmosphere was joyful. Two of the youth then joined the gatherings the following week. They consulted together about the themes in Book 5 and as these new youth consulted further, they invited a few more school friends to join. The following week, five new youth joined and consulted together about service and how they could serve their communities.
Sajit, who lives and serves in St. James Town, describes how this process unfolded by starting with just one youth, Atia, who they connected with regularly.
"We made sure that every week we were asking them about inviting friends and others to the group. Atia, she invited a bunch of her friends. Slowly, week by week, they started inviting their siblings. We started with one, he came regularly for a couple of weeks. And then eventually, we were able to open breakout rooms and have an older and a younger group."
Building on the efforts around this group, the idea of a youth service week was shared with the youth as they were thinking about their holiday plans in December. The youth thought about the younger generation's need for connection and socialization during the lockdown and decided to offer a camp for the children and junior youth including arts, storytelling and games.
They started inviting many friends, and for the two weeks before the service week, eight friends were meeting online regularly to make plans for the service projects. The team of tutors met daily leading up to the camp to plan for the sessions. They saw the youth as having tremendous capacity and immediately drew on them to help with the coordination of the campaign and activities. Through this encouragement, the youth created invitational flyers, registration forms, Google classrooms, organizational documents and lists, and used social media to prepare for the service projects that would make up the content of their week.
In addition to their study of the institute materials, for an hour of each day during the camp, the participants in the study group planned activities. They prepared for online crafts, sharing stories, drawing and comic-making, and virtual games. The youth invited approximately 20 children and junior youth. Over 50 young people aged 5-14 participated daily in the service activities offered by the youth. They split into four groups based on their ages, and two to three youth took the lead of facilitating the activities that they had planned for each of the groups.
The dynamic of so many youth serving made any new youth who joined immediately ask how they could serve. One youth came the night before and saw that his name wasn't on the list to do something. He immediately said, "My name isn't there, what can I do to serve?" Another youth responded: "I'll help you and we'll come up with a kahoot together." Their identity was built on the foundation that they are a group that serves. Some youth were so committed they wrote to apologize to the team for having missed even a half hour of one of the sessions.
Golbon Mehrabkhani, Auxiliary Board Member who serves as part of the team in St. James Town describes: "As we go through the campaigns, this ongoing desire to serve is nurtured and then expressed. It seems to be about putting very little restriction on people. It's a process, so it's going to deepen," she said. The youth were encouraged to make their own decisions about what the activities should be based on their interests and what they were learning through the institute. "They had decided they wanted to tell a story," Golbon recalled, "so we shared a few from 'Walking the Straight Path' and they chose one they wanted to use."
Each participating youth was given space to face challenges and to reflect on their growth through service. One youth shared:
"Working with children was terrifying at first because I did not know what to say; however, this opportunity to work with them gave me experience that I could build on. Through helping the children with crafts and storytelling, I gradually felt good about working with children."
Many of the participants noted the way the camp extended their sense of what was possible in terms of their capacity, even to engage with the Creative Word of God:
"I was challenged by my Book 2 study group to memorize a large number of quotations in a short period of time. Although it was hard and I had difficulty remembering the longer ones, I still managed to memorize a lot of them much faster than I thought. Overall, I found this camp to be an enjoyable and memorable experience and look forward to the next one in the future."
What started as an effort to stay connected to one youth regularly, and then built through bringing together service, study and the structure of the campaign, the team opened the way for the youth of the neighbourhood to take hold of the planning process. Together they ended up engaging over 50 community members in virtual togetherness during a pandemic in the dead of winter. Since then, this same cohort of youth has planned two subsequent camps weaving in games, arts and storytelling and drawing on the power of the Institute, a veritable engine of growth. Eight of these youth are now teaching their own children's classes and have prepared five lessons for their upcoming April school break camp for children, to which they are inviting broadly. Along with a simultaneous Book 1 for a new cohort of youth in the neighbourhood, it's bound to be an exciting month!
[1] International Teaching Centre, Training Institutes: Attaining a Higher Degree of Functioning, 2017