With less than two cycles remaining of the current One Year Plan, dynamic intergenerational teams are surging forward in two Ontario clusters determined to establish an intensive program of growth before Riḍván 2022. They are aware of the remainder of this period of special potency and an extension on the time needed to establish as many programs of growth as possible around the world, and in Ontario. These teams are alive to the vision that "every community must draw on whatever untapped potential it may possess and seek to overcome any obstacles that are impeding its growth, thereby preparing it for the demands to come."[1]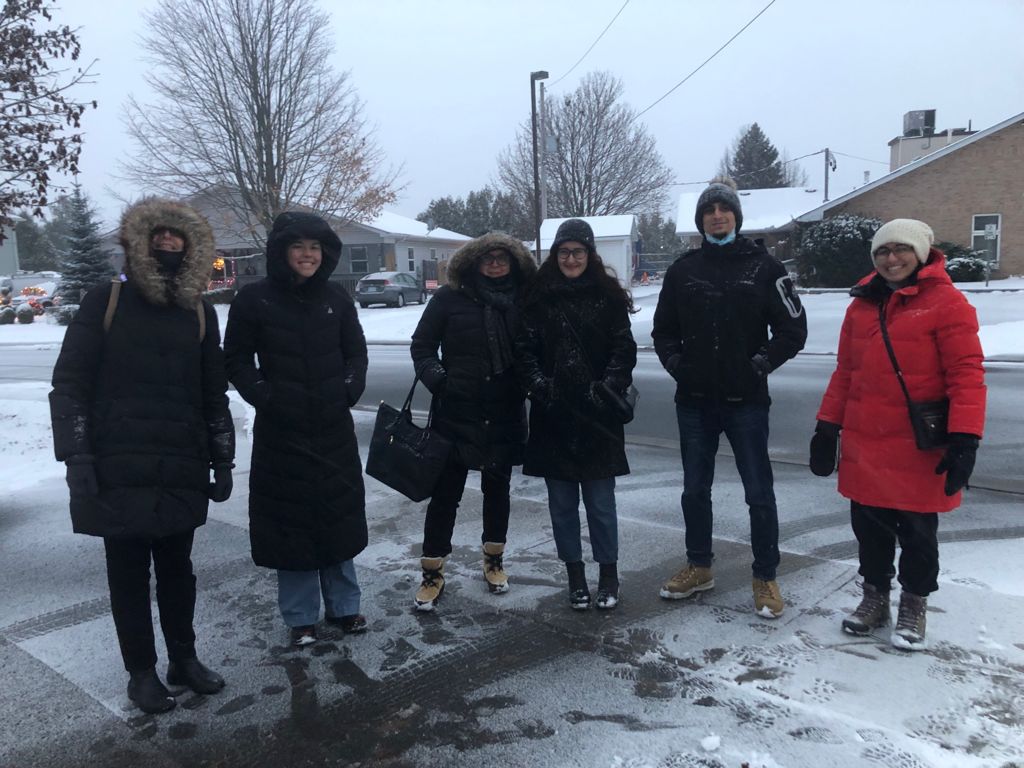 The Northumberland and Kawartha Lakes clusters are both largely rural and the Bahá'ís in these communities are older. Some had moved decades ago with the desire to share their Faith as pioneers to these regions and have since been making efforts to establish a pattern of community life. As a group of older believers, it can be challenging to engage children, junior youth and youth in activities, but through welcoming and working alongside youth who have been consistently visiting, building friendships and bonds of trust with families and likeminded organizations, momentum is building quickly.
Efforts in Lindsay, Kawartha Lakes Cluster
Before the pandemic, Melissa Ghori, Helen Yazdani and Rhona Scoffield looked through Helen's local contacts and realized she knew the minister at the United Church in Lindsay. They made a connection and invited Hannah Michel to join them. They were introduced to the youth coordinator there who was very receptive to the concepts from the youth conference materials the team shared with her, saying "I have the young people coming, but I don't have a program." The program started soon after, but there was difficulty in maintaining it through the pandemic, even online, as it was still quite nascent at that time. Over the last few weeks, the team has been renewing their efforts. Chandyn Hamilton-Bachiu, a youth from Sudbury who is currently offering a year of service, travelled several hours south to offer support in both Cobourg and Lindsay.
The new youth program director at the United Church is now the mother of one of the initial junior youth who had been in Helen and Hannah's group and was keen to help re-establish the activities at the church. There was an initial meeting with seven youth in Lindsay, who were asking about how they could help start the program again. The group decided to have a gathering at the church itself a few days later, and Chandyn agreed to stay to describe the junior youth program and connect with those that came. She describes the evening as follows:
"We were expecting 8 people, including 2 from the Bahá'í community, so I thought it would be an intimate setting, mostly building friendships with people. But then a whole bunch arrived–there were 17 youth and junior youth! I think that because Christmas is coming up, this small youth group endeavoured to invite more of their friends and the coordinator is very supportive of the aims of the program.
When everyone sat down and the program coordinator introduced me, I realized this would be a presentation. So, I just asked them about their town and about their experiences with service. I talked about the importance of spiritual and material education and how they go hand in hand. I did see a few nods and I tried to ask questions, but it was a bit challenging in a presentation format.
But then the youth program director had planned to have the youth bake cookies after. There were too many people to all be in the kitchen, so I took this other group aside–four junior youth and one youth–and I was able to talk to them more about the program and I was able to see their interests and aspirations and what was in their hearts. That was a much better environment. One youth who is in grade 11 seems keen to animate and the junior youth were also pretty much into the idea of the program. I got their contact information, we arranged to meet a few days later to do a service project before Christmas Break on Tuesday and then the program will start in the new year. Then, the youth who I knew wanted to animate was playing guitar, so I showed her the chords for "unite and bind together the hearts" and I played the piano and we led 8 junior youth in that song. They all love singing! It was beautiful. But now, I think there's such a clear need for another youth to serve with Helen. We know how much youth benefit from having a strong connection with a consistent animator." The group also sees possibilities for these youth to arise and serve in the coming months themselves.
Efforts in Cobourg, Northumberland Cluster
A group of dedicated believers in Cobourg have been actively and consistently learning about creating spaces for collective worship, increasing the number of devotionals in their cluster from 3 to over 15 during the last year. They have been learning about the aspirations of those they are connected to and, through those openings, having meaningful conversations. They have been studying guidance consistently and learning together about the conversations they are having during a growing number of home visits.
Aware of the vital connection between worship and service, as a group of older believers, they have also been praying specifically for the young people in their cluster. In Cobourg, every single day everyone has been saying the prayer "O Lord! Make this youth radiant…" and they have collectively thought about who they might know who has a youth, junior youth or child they might connect with. Recently, these prayers have led to action, with a small team of youth from nearby clusters re-engaging friends in the Darcy neighbourhood, home to many children and junior youth.
Two young people from Toronto have arisen to serve and help with outreach as part of a mobile team of youth serving in the region. Melody Mazloom and her family have committed to support the Northumberland cluster. Sara Zahraie is another youth who began some activities in the Darcy neighbourhood in 2013, including a nascent youth study circle, and was able to visit recently, along with Andalib, a youth from the United Arab Emirates who is studying and lives in Curtis, Ontario. In early December, this small group, along with Chandyn, met, planned and then visited people. In addition to these friends, a number of other community members, intergenerational teams, and a few other youth from other clusters, have assisted with efforts to have conversations, and some members of the Local Spiritual Assembly also made sure to pack snacks for those carrying out visits.
Chandyn describes: "We only outreached for about 45 minutes, and had such nice conversations with people that it really seems very receptive. One community member offered a space, another offered food. A few of them even volunteered to come study and do outreach in their own community to meet youth. I've found a great team is to have a youth and an older adult together, so that you can really connect with both the youth/junior youth and to have a community member from the community itself. The enthusiasm of our small team seemed to unlock the hearts; it was like having a wind beneath us pushing us forward. There's a lot of kids in the neighbourhood, a children's class or junior youth group would be great to start. It's a big neighbourhood so it would take time and assistance to do more outreach."
In these final weeks of the One Year plan, we are certainly seeing the way that "clusters of marked strength, as had been hoped, have proven to be reservoirs of knowledge and resources for their neighbours." One can also see the way that youth "with faith and valour have assumed their rightful place in the forefront of the community's efforts. As teachers of the Cause and educators of the young, as mobile tutors and homefront pioneers…"[2]
And as all are preparing for the Nine Year Plan that is to come, those whose hearts are moved to assist in Cobourg or Lindsay for this period of special potency, are invited to connect with either the Regional Bahá'í Council or an Auxiliary Board Member.
---
[1] Universal House of Justice, November 25, 2020
[2] Universal House of Justice, Riḍván 2021