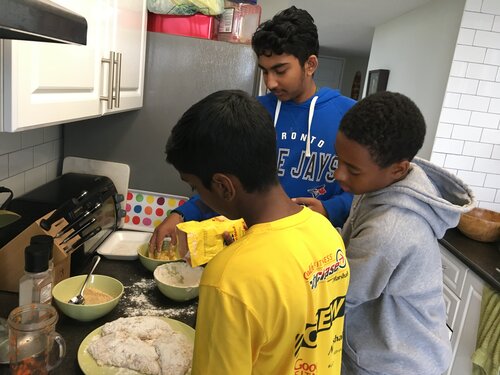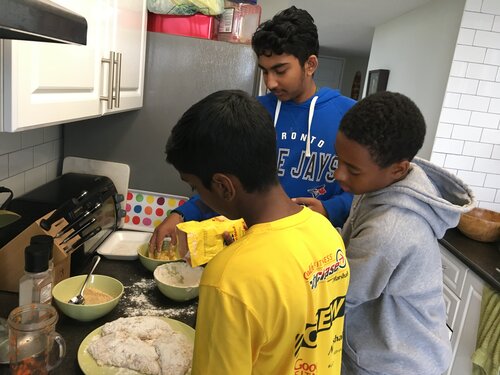 The isolation caused by the pandemic can lead to feelings of frustration, even despair, among youth. In Rowntree, a neighbourhood in the northwest part of Toronto, one youth found resolve by recognizing a confirmation from Baha'u'llah. Rowntree was opened up with the junior youth spiritual empowerment program in 2012 when some 80 junior youth registered to attend the program. Since then, the neighbourhood has seen three cohorts move through the junior youth program and seven cohorts move into the Institute. There are currently 40 core activities.
This youth asked a teaching team in Rowntree to host a Ruhi Book 4: The Twin Manifestations intensive because he wanted to continue his study of the institute courses. He had already graduated from the junior youth program and was serving as an animator, but his interest in studying came as a surprise to the team members because he had been keeping a distance from the team, and they had almost no contact with him for several months during the pandemic.
It turns out that he heard about plans for an intensive Book 4 study in another neighbourhood and reached out to the team there, expressing a desire to participate. The friends planning that study encouraged him to reach out to his own neighbourhood team to see if a Book 4 intensive study was being arranged in Rowntree. So he did.
One of the Rowntree tutors shared, "We asked him where his motivation is coming from. It wasn't light motivation. He would text me every day; he would follow up to see if I had the chance to talk to the tutors to see if they had set something up. I had never seen a participant so eager." So the tutors made the arrangements, and this youth was able to begin his study of Book 4 alongside another graduate of the junior youth program over the course of a long weekend.
In answering a question in section 5 of unit 1 of the book, the source of this youth's eagerness to continue his study through the institute courses was revealed. The question asks, "Why do you think you were able to recognize Bahá'u'lláh? What can you do to show your gratitude for having received such a bounty?" The other participants explained that their experience going through the junior youth program and the institute courses had led them to strengthening their belief in Baha'u'llah. This youth recounted a recent personal experience that led him to become firm in his faith. He began by describing the disappointment and sadness he felt at not being able to carry out some activities that he was looking forward to because of the pandemic. These feelings were overwhelming, and he faced a lot of personal difficulties in the months when he was not in contact with the team. He felt stuck like this, until one day a sudden life event caused him to see his life in a different light. He recognized the event as Bahá'u'lláh telling him that the overwhelmingly difficult circumstances he was facing did not mean that it was the end of the world for him. He realized there was a bounty in still being alive and that he should follow the path set out by Bahá'u'lláh. When his tutor asked him what this path is leading to, he responded by saying, "It is leading to unity".
Reflecting on this youth's experience, his tutor said, "Sometimes we have assumptions about youth, but God helps everyone." Doing Book 4 helped the group reflect more deeply about the crises and victories in their own lives — like the way the series of crises in this youth's life led him to the victory of recognizing Bahá'u'lláh, and finding spiritual strength.
The team continues to reflect on how to nurture the Bahá'i identity of youth who are newly declaring their faith in Baha'u'llah.
A version of this article was originally published in the Toronto Newsletter.