"For a while, it was forbidden to travel to Brockville because of COVID restrictions. It's very new for me this concept of pioneering, of expansion, the phases… But now, the border is open and everything seems to be moving in that direction."
Jules Dourson was introduced to the teachings of the Faith three years ago through numerous encounters with friends that spanned the globe. This first occurred when he was living in China for an exchange program. The following is his description of these experiences:
I was approached on Facebook by a woman in Africa who came across a TED talk I offered, where I spoke about a united, multicultural world. As we chatted, she mentioned that the values I conveyed in the talk were so similar to those she and her friends, who were living in China at the time, had, and as a result, she offered for us to meet. Our chat revealed numerous other connections in which we recognised how our worlds were already intertwined. For example, her husband and I had attended the same engineering school in France and her nephew was actually my math teacher when I was in Guadeloupe. All these connections fueled my attraction to this newly formed friendship.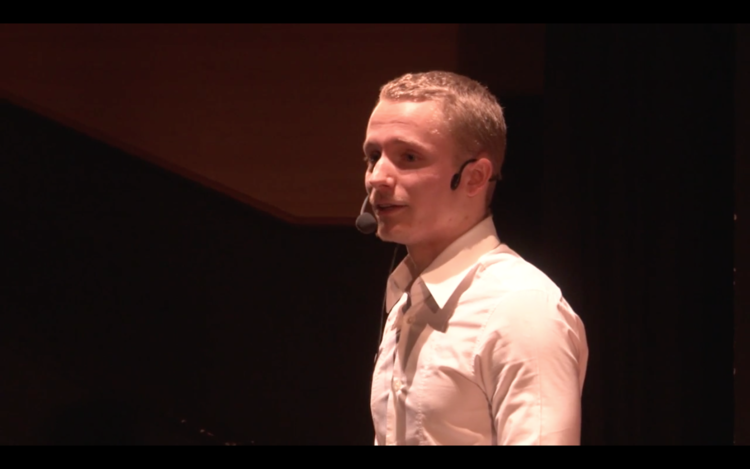 We kept in touch and when I eventually returned home to Lyon, France, she offered to introduce me to friends there as well. My curiosity had risen by this point, and I was eager to make these new relationships so I found myself at an Ayyam-í-Há celebration. It was a joyful celebration where we sang songs and ate together. I immediately saw everyone present as my new friends. I wanted to continue to learn more about these people and their values so I began attending devotional gatherings and studying Ruhi Book 1 with them. The atmosphere of love and friendship in these spaces caused me to seek out like-minded souls wherever I went.
My curiosity mounted as I relocated to Guadeloupe. I was immediately reminded of my former math teacher, and soon found out that his son happened to be a student in my class. As we reconnected, they helped connect me to other community spaces.
Wherever life took me, I had new experiences that contributed to my attraction to the Faith. Eventually, once I had completed my Masters' degree and was living in Montreal, with a new job at the Canadian Red Cross, a group of my new Baha'i friends asked whether I wanted to formally declare, and I agreed, I was ready.
In Montreal, I immersed myself in my work and the community. I felt a sense of comfort in the Faith, but was also motivated to find more avenues to which I could contribute. When my work with the Red Cross came to an end, I actively began to look for ways I could fulfil this desire. I had felt an attraction to living in Ontario and then came across the call for pioneers from the Baha'i Council of Ontario. The COVID travelling restrictions helped narrow my search, since many places were in lockdown. Brockville happened to be one of the places that allowed visitors and so I wrote to the Baha'i Council to indicate my interest in relocating to assist with the efforts there. The Council connected me to a local friend in Brockville who invited me to attend one of their reflection meetings in person. On route to the reflection meeting, my car broke down right as we exited the highway and arrived at Brockville. My new friends in Brockville joked that "The camel stopped where it was meant to". He was right! Though small in number, the Brockville community offers yet another arena for spiritual growth and opportunities to serve.
"…it is our sacred duty to make the utmost use of our freedom, wherever it exists, to promote the Cause of God while we may. The surest way to do this and to win the good-pleasure of Bahá'u'lláh is to pursue, with dedication and unrelenting vigor, the goals of whatever Plan is in force, for Bahá'u'lláh has stated 'To assist Me is to teach My Cause.'"[1]
We are making plans to start new Book 1 and 3 study circles in Brockville to help raise up resources to start a children's class. I am confident that the community's junior youth group will help to strengthen efforts to engage children.
The community is largely made up of Arabic and English-speaking families right now which has led us to think of ways to offer activities in both languages. Although it isn't so clear what my service will look like all the time, I know that each step and simply just being present will lead to something good. I am learning that it's about trying and seeing. One child who is in the children's class suggested for the class to be taught in French, my first language. Perhaps I can learn with them about doing that. I am open to God's Plan.
"At this time and at this period we must avail ourselves of this most great opportunity. We must not sit inactive for one moment; we must sever ourselves from composure, rest, tranquility, goods, property, life and attachment to material things. We must sacrifice everything to His Highness, the Possessor of existence, so that the powers of the Kingdom may show greater penetration and the brilliant effulgence in this New Cycle may illumine the worlds of mind and ideals." [2]
[1] Universal House of Justice, Naw-Rúz 1980, to the Bahá'ís of the World
[2] 'Abdu'l-Bahá, Tablets of the Divine Plan, 1977 Edition, p. 66