Sunder Singh grew up in India. When she was 14, she met three fashionable Persian women in the marketplace. They were so kind and friendly that she invited them to her home.
For the rest of her life, she remembered this encounter. "The gentleness about them stayed with me," she says. She also remembered the Bahá'í Faith they had mentioned. While the Faith continued to touch her life as she grew up – including a visit to the House of Worship in New Delhi – it was only in the last few years, now living in Canada as Vaughan City Councillor and then as executive director of the Elspeth Heyworth Centre for Women (EHCW), that she reconnected with the local Bahá'í community and began working alongside the Bahá'ís she had come to as a young girl.
"The time wasn't right," she says, "but now, it was. It's brought opportunity, true collaboration and it's not for me alone. It's for the community."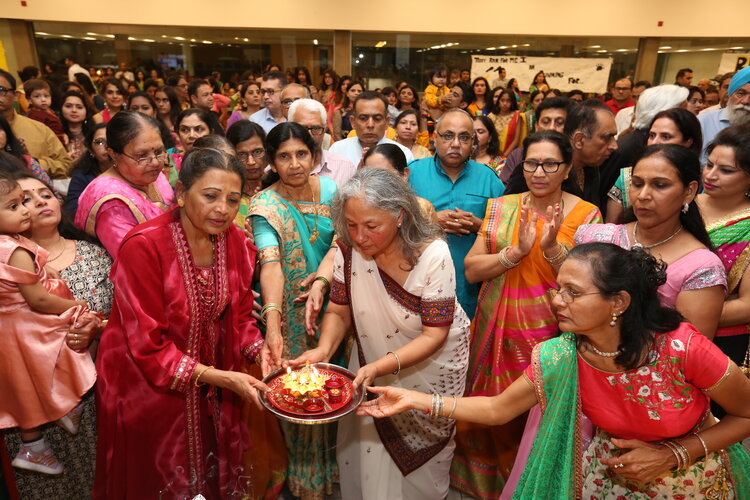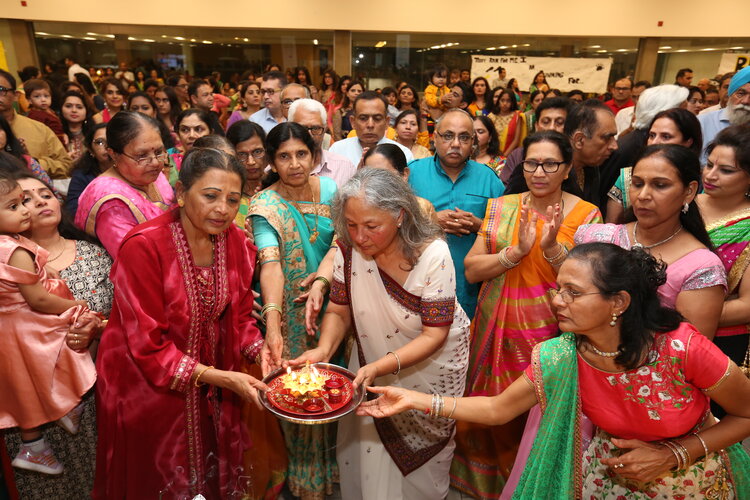 The spirit of collaboration between Sunder and her friends and neighbours from the Bahá'í community – particularly Joe and Celeste Bancheri – has not only led to a series of study circles and meaningful conversations amongst them but has also impacted dozens of families in Vaughan. There, they have continued to serve in critical ways, particularly throughout the pandemic.
Like many communities across Ontario, the Bahá'ís of Vaughan openly invited a broad circle of friends and local connections to celebrate the Bicentenary of the Birth of Bahá'u'lláh in 2017. As was their habit, they also included members of the city Council in their invitation. As a member of the City Council at the time, Sunder was happy to attend the celebration and connected with Joe and Celeste for the first time. A few weeks later, she reached out to the Vaughan Assembly to learn more about Bahá'ís in the community. This is when Joe and Celeste realized they lived a mere two blocks away from Sunder, and they came together for tea.
Sunder recalls the way Joe and Celeste instantly identified how similar their thoughts were about community life and service. The pair was delighted to learn about the work of the EHCW, and Celeste says that after 45 years living in Vaughan, she knew all the city-run community centres but was intrigued by Sunder's work. Celeste recognized Sunder was a friend with whom they could act and learn with to apply the message of Bahá'u'lláh to address challenges in their community.
Celeste says, "One day, I sent her a text saying 'you're already serving, you're already doing what Bahá'ís are supposed to be doing! We're having a study circle to sharpen our skills in service, so would you like to join?"
Sunder recalls the moment fondly: "When they offered for me to join their study circle that day, I was just elated."
Over the course of the past two years, the group has studied Ruhi Books 1, 3, 5, 6, 10.2 and now they are studying Book 2. Drawing upon the training institute as a means of helping to develop capacity, their study has informed their service in the community, working with both a local school as well as with activities at the EHCW. The study circle began collaborating, continually inviting others to join, by bringing together seniors and youth, groups from different cultural communities and having creative events involving congregate dining with performative elements.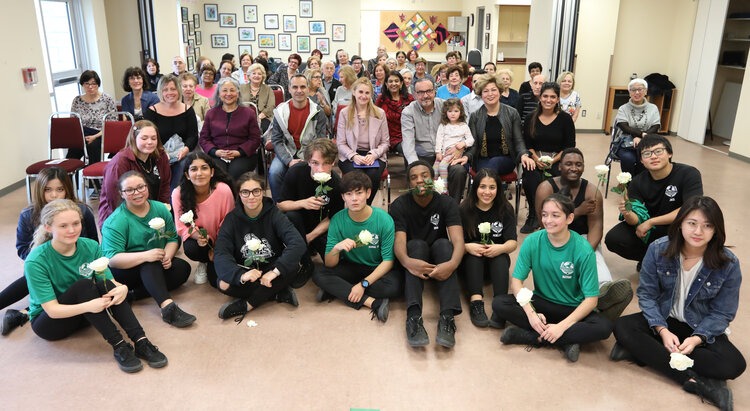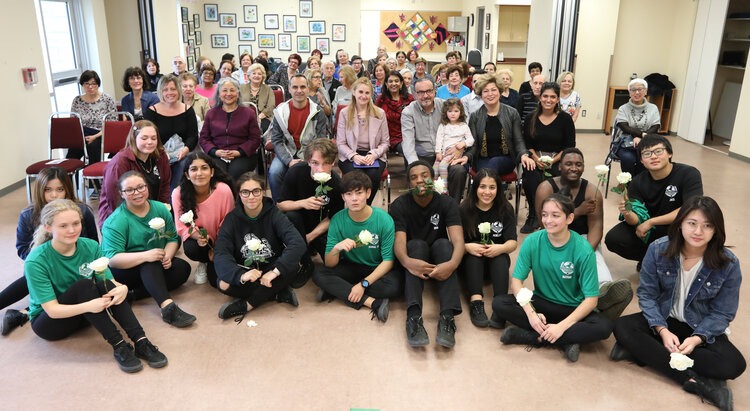 When Covid-19 transformed everyone's lives, Celeste had been working with one of the local schools, where she was connected to 13 families who were only able to access regular meals viathe school. When the school closed, Celeste knew that these families would be struggling, so she began thinking about how she could help.
Sunder describes how active Celeste was at the outset of the pandemic, and they began working together to prepare and bring food to these families. Much of the food was also delivered with a prayer for unity, a prayer for humanity and a prayer for children. As they continued their efforts, the United Way and the City of Toronto also reached out and the EHCW became a designated food hub.
"Sunder's involvement has helped us orient our study circle towards service. This is what our study is for", Celeste says. Sunder explains how much she draws on the insights gained from the study circle in her work:
"I'm sharing it with everyone. The most critical thing I've found is the Bahá'í teachings of unity and universal oneness. I began to absorb that and take this into the community. When we communicate with the clients, the seniors, those who are struggling to live a normal life, those who are isolated, it's constantly about doing everything to seek out unity. In 2005 and 2006, this unity wasn't there; each cultural community was thinking in silos. Now, there's unity, 'you need help, I'm there for you.' That kind of consciousness became very powerful in this organization. This is what I've taken from the Bahá'í community into my work."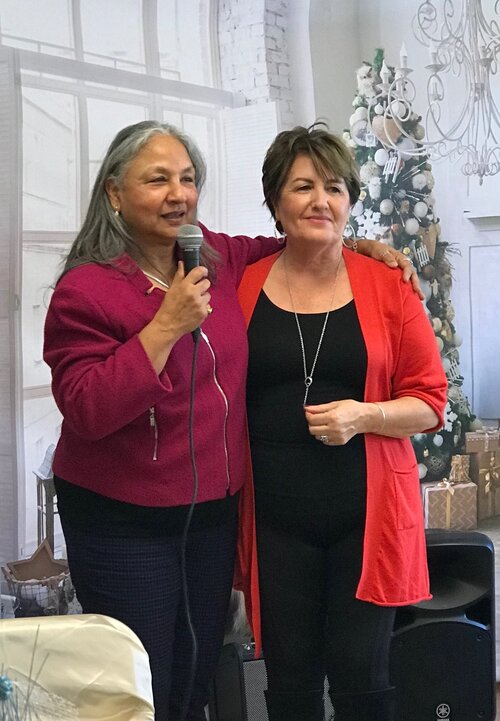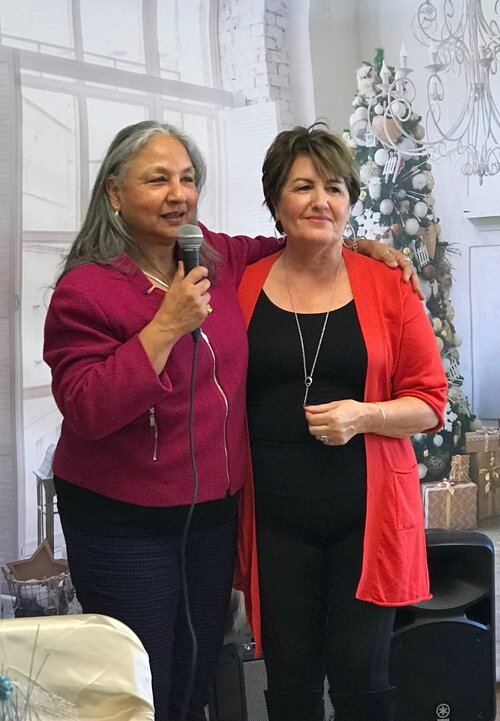 Sunder, Joe and Celeste continue to collaborate on a number of initiatives together, including the annual Vaughan International Women's Day event, which is regularly attended by over 400 people. In partnership with local media and municipal and provincial representatives, insights from the Bahá'í Writings related to gender equality have been highlighted at these events and this year an excerpt from the film Glimpses into the Spirit of Gender Equality was shared. As this expanding nucleus of friends continues to study and serve together, they face new questions, related to how to sustain educational activities and reach more and more families.
And yet, their initial steps over these last years call to mind the words of Bahá'u'lláh: "Is not the object of every Revelation to effect a transformation in the whole character of mankind, a transformation that shall manifest itself, both outwardly and inwardly, that shall affect both its inner life and external conditions?" and the words of the House of Justice, reminding us that:
"Only as effort is made to draw on insights from His Revelation, to tap into the accumulating knowledge of the human race, to apply His teachings intelligently to the life of humanity, and to consult on the questions that arise will the necessary learning occur and capacity be developed." [1]
[1] Universal House of Justice, Riḍván 2010
Click here for further information on the EHCW and to view the the 2021 International Women's Day program.